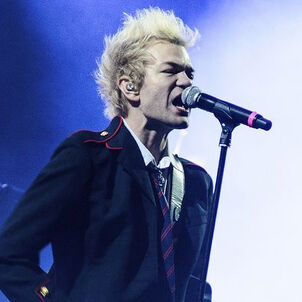 Deryck Jason "Bizzy D" Whibley[1] (born March 21, 1980) is a Canadian musician and producer, best known for his work as the guitarist and lead vocalist, songwriter and producer of the multi Juno Award-winning pop punk band Sum 41. As a producer he was one of the founders and directors of Bunk Rock Productions. Sum 41 has sold over 10 million albums and won multiple awards all over the world. Whibley was born in Scarborough, Ontario and brought up by a single teenage mother, Michelle. He moved to Ajax, Ontario at age 12 and started Sum 41 a few years later. He married fellow Canadian pop-punk singer/songwriter Avril Lavigne on July 15, 2006, in Montecito, California. He is of English descent.
Deryck was in several bands before he met Steve Jocz in high school, but was in a band called "Doors of Draven" with Dave Baksh. His first band was called "The Powerful Young Hustlerz", a Hip Hop band that covered Beastie Boys songs. Deryck and Steve became good friends and started a band called Kaspir. The band consisted of Whibley as lead singer, Jocz on drums, Mark Spicoluk on bass, Dave Baksh and Marc Costanzo on Guitar. They later kicked Spicoluk out due to him getting into too much trouble, and Costanzo left to form the pop band, Len. Deryck then became the other guitarist. They changed their name from Kaspir to Sum 41 for a supernova show. They got Cone McCaslin to play bass in 1999 after having many other bassists. To this day, Cone states the reason they got signed was due to him joining the band. Among the first songs they wrote are "I Like Meat", "Astronaut", and "5-0 Grind". In the alter-ego band Pain for Pleasure, Deryck plays drums while Steve Jocz sings lead vocals.
Professional career
Edit
Besides Sum 41, Whibley has developed a professional career in the music industry as producer and manager. Deryck was part of Bunk Rock Music, a music management and production company. With Bunk Rock, he had co-produced some of Treble Charger's albums. He also did some backing vocals for them on the album, Detox. He produced for No Warning with the company as well. Since parting ways with Greig Nori, he sold his part of the company in early 2005.
During the Sum 41 hiatus in 2005 and 2006, he worked with Tommy Lee on guitar and backing vocals for his album, Tommyland: The Ride, and A Million in Prizes: The Anthology with Iggy Pop.
Currently, he is working as the producer of the first EP album from the side project of bandmate Cone, called The Operation M.D., and is producing the next Sum 41 album. For 2007, he mixed the debut album of a new band called Permanent Me. He was also involved with the new album by Avril Lavigne, The Best Damn Thing, where he produced, played guitar and bass, recorded backing vocals, and co-wrote the music for some of the more rock/punk-rock oriented songs.[2]
Besides his musical career, he has worked on occasion as an actor. He portrayed the character Tony on the movie, Dirty Love, and himself as a guest character in King Of The Hill.
In November 2007, Whibley suffered a back injury. This happened while Sum 41 was on tour with Finger Eleven, and the remainder of the Strength in Numbers Tour was cancelled.[3]
Personal life
Edit
In January 2004, Deryck began dating fellow Canadian rocker Avril Lavigne . During the last part of Lavigne's European Tour for the Bonez Tour shows, she and Whibley took a trip to Venice and got engaged on June 27th, 2005. The couple married in a traditional Catholic ceremony on July 15, 2006, at a private estate in the California coastal city of Montecito, located about 87 miles (140 km) northwest of Los Angeles. Lavigne wore a Vera Wang gown, carried pearl-white Australian roses, and was walked down the aisle by her father. Whibley wore a Hugo Boss suit and was accompanied by four groomsmen, Steve Jocz (his best man), Jason "Cone" McCaslin, Avril's older brother Matt Lavigne, and Sum 41's close friend, Robb Dipple. Lavigne's younger sister, Michelle Lavigne, was one of the bridesmaids. About 110 guests attended the wedding, and their first dance as a married couple was to the Goo Goo Dolls song "Iris".[4] They currently live in Bel Air, Los Angeles, California.[5][6]
Instruments
Edit
Deryck uses a black customized '72 Fender Telecaster Deluxe live with his well-known red X's for decoration and good luck.[7] He has also put out a signature guitar with Squier, a sub-brand of Fender. The signature Squier comes in black and Olympic white, sports the two red X's and has one humbucking pickup in the bridge position, which is a Seymour Duncan HB-102. It also has his signature "Deryck" written on the headstock.[8] In the past Deryck has used many Gibson guitars such as the Flying V, Les Paul, SG and the Marauder. According to October 2007's issue of Rocksound magazine, Deryck also uses '59 Les Paul Reissues, '52 Telecaster Reissues, Telefunken and Neumann mics, '52 Plexi 100 watt Marshall Head and Spectraflex cables.[9]
Discography
Edit
Main article: Sum 41 discography
Arrangements, songwriting, vocals, guitar and piano throughout all albums, other roles when noted.
An asterisk (*) after the album name indicates that the collaboration was done with Sum 41.
Various Artists - National Lampoon's Van Wilder (Soundtrack) * (2002), Producer
Various Artists - FUBAR: The Album * (2002), Producer, drums
Various Artists - Spider-Man Soundtrack * (2002), Producer
Treble Charger - Detox (2002), Co-Producer, vocals and guitar
No Warning - Ill Blood (2002), Co-Producer, arranger, management
Iggy Pop - Skull Ring * (2003), Producer, vocals, guitar, songwriter
No Warning - Suffer, Survive (2004), Co-Producer, arranger, management
Various Artists - Fantastic 4: The Album * (2004), Vocals, guitar, songwriter
Ludacris - The Red Light District * (2004), Guitar
Various Artists - Rock Against Bush, Vol. 2 (2004), Producer
Various Artists - Killer Queen: A Tribute To Queen * (2005), Vocals, piano
Tommy Lee - Tommyland: The Ride (2005), Guitar
Permanent Me - After The Room Clears (2007), Mixing
The Operation M.D. - We Have an Emergency (2007), Producer
Avril Lavigne - The Best Damn Thing (2007), Producer, guitar
External links
Edit
Cite error: <ref> tags exist, but no <references/> tag was found